The Semiconductor Index Tracker™

Market Timing the SOX and SMH
10-18-2010: An ETF Timing Article about market timing the SOX index and SHM 
The semiconductor index as indicated by the SMH ETF is now breaking the upward wedge I had commented on many days ago. At first it broke OUT ABOVE the top of the wedge (the top WHITE LINE) and then topped out at the prior high (RED LINE). Now it has broken back down below the lower line forming the wedge (BOTTOM WHITE LINE).
So this could bring the semiconductors back to the 8-31-2010 low at the BLUE LINE.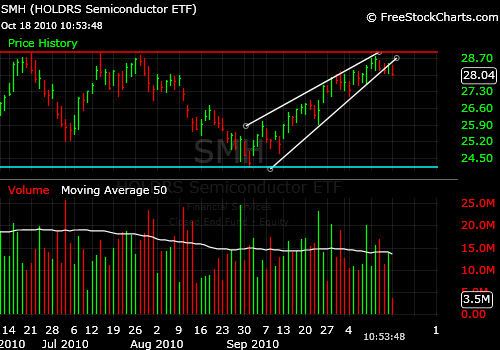 As shown in the chart below, the semiconductor index itself is stronger than the SMH ETF, but is IS coming DOWN from a failed breakout at the RED LINE on the chart below.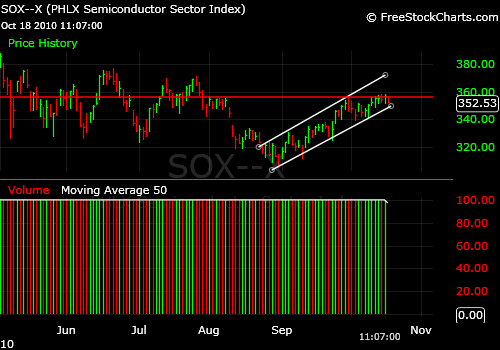 CONCLUSION: The semiconductor index AS indicated by the SMH ETF has topped out at the recent high (SEE RED LINE) and it has also broken BACK BELOW the base that forms the upward Bearish wedge (WHITE LINES). This is a negative market timing signal that could bring us back down to the prior low (BLUE LINE). 
It should be pointed out though that the SOX index itself has:
1. Failed a breakout and formed a topping formation BUT
2. Must still break down through the WHITE LINE on the chart (second chart of the two above) to truly break down.
So what could you do to profit?
You could sell here or scale out at this level or set an aribitray stop loss that you are comfortable, so you can exit the market and control your losses. You could also wait for the SOX to break as well before selling the SMH. If you believe the SMH is leading the SOX then you have a reason to sell.
What else could you do?  If you would like to know ALL my thoughts in regard to ETF timing /market timing "Tips" like these, simply sign up for the FREE "Tips" newsletter below. 
I'll be in touch with material ONLY available to FREE subscribers to the TIPS newsletter. You will get the password to the Market Comments Page right away.
Please enter your email address and first name and HIT SUBMIT. I'll be "speaking with you" again when I have another insight to share.
PLEASE NOTE THAT THE "ENTRANCE" to this webpage is on the blue Navigation Bar to the left on the home page labeled "Tips Access Here." PLEASE MAKE A NOTE OF THAT FOR FREE PRIVATE COMMENT ACCESS.
For now, please enter your email address and first name and HIT SUBMIT. I will notify my whole FREE list by email when the next Market Timing / ETF Timing "Tip" is ready.